Chris's Page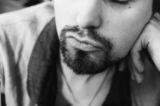 Hello Ladies, Gentlemen, Dogs and Squirrels, indeed welcome, welcome to my own little minature kingdom within the magic baby website....
About Me
I like making music, particularly using my own body parts and internal organs. I first started making music with my brother and cousins when I was about 8, sadly none of these great works were published, so now I've moved on and hopefully up and into Magic Baby
Rumour has it that I sing and play the double bass guitar and piano - although rarely concurrently. I guess my favourite musical thing has to be rhythm that makes you move and hats, yes hats.. no actually not hats.
Musical Influences
Well I mainly listen to classical music, particularly piano and choral music - Beethoven, Bach, Aleggri, Avo Part, Schubert, Debussy, Chopin - you know, those sorts of fellows. I don't how much of an influence they are but I particularly like Metallica (before they went shit) and the first two Iron Maiden Albums.
I think reggae, world music and anything particularly rhythmic are strong influences in my music making.
About Sharon
Sharon suggested we both write about each other, so here goes:
"I've listened Sharon for many years, but I've never written a review so here it is: My first experiences of Sharon Lewis were at Healthy Concerts. She seems to have most of the emotions in her palette.Some songs so sensitive - 'Claire', 'It's Alright Now' - often tears would flow in the audience; and most songs just downright classics!

Then she'd surprise me, just when I'd put her in a sort of 'real classic song writer' pigeon hole, she'd came out with 'You Have Been Blessed', just my kind of feel and well outside the normal 'radio play' type of sound many seem to stick to. Then I heard some of her songs from the Pooka Days. Each of their albums has a different flavour, the original and cheeky 'Pooka' album; the haunting 'Spinning'; the excellent Electronic Album 'Shift' and last but not least their final work 'Fools Give Birth to Angels'. Fools is my favourite Pooka Album, probably the most timeless and I must admit, sometimes I just can't listen to it - the emotion is so strong!

Sharon and Natasha really know how to produce their own music, they've used some great and unusual musicians, string section, Hammer Dulcima, some sort of pipes and Bell ringers. If you don't own this album, you should. Well I don't want to waffle, but Sharon is a true musician anyone with any sensitivity is sure to love this beautiful music
In conclusion.
Dogs are great! but not as good as inflatable nuns...