Magic Baby is Sharon Lewis and Chris Kirkland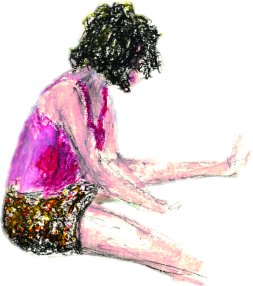 Born in 2003, with their first collaborative venture 'Writing in the Dark', originally a poem by Chris, Sharon Immediately spotted the potential of a smash hit pop song and suggested setting it to music. Chris came up with the guitar part and Sharon wrote the melody.
Other Musical endevours followed and in the Spring of 2004 Sharon and Chris recorded their first Magic Baby EP, featuring the magical talents of Paul Chi aka Mrs Chi on Piano and Guitar.
The songs were performed completely live and recorded onto a 4 track vintage tape machine that was rescued from a skip outside Abbey Road Studio's in London.
The Magic Baby 4 Track E.P. (with 5 songs on it) is available from the shop, or check the MP3 and Video page to sample these musical deleights